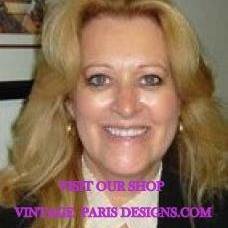 Welcome to our Designer Boutique offering beautiful designer treasures of handbags, jewelry, designer couture accessories and decorative porcelain antiques.  Yes, That's ME, Mary in the picture to your left! I am the curator of this website as our family business has moved to the internet. With my family of collectors, we hope as you relax while enjoying our precious items, that you can imagine yourself visiting a high end designer second hand shop. Here you can relax and enjoy a glass of wine while you peruse through our secret oasis. We hope you find a piece that fills your life with history, beauty and a wonderful investment.
We have been collecting fine porcelain and designer items for over twenty five years. We have an exemplary record from our patrons. Customer satisfaction is our first concern! We pride ourselves on repeat patrons as we are passionate about our items.

Authenticity of designer items are absolutely guaranteed. When in doubt we utilize several third party verification companies to verify authenticity. We have sold  well over 2500 items on other on-line venues. Enjoy our 100% Money Back Guarantee with a full Refund policy for any reason! Please Purchase with confidence.

We hope these pieces bring the same joy and happiness to our customers as they move from our shop to your home. They are wonderful items of history and offer fantastic investment opportunities. 

We value the environment and the world ahead for our children and grandchildren. For this reason, we will reuse packing materials, such as boxes, foam peanuts and bubble wrap. Your lovely porcelain will be packaged expertly and safely. We will always package with the love of the history of each and every piece.
Our mission is simple: to provide the best products and service to our customers at the lowest prices possible. We take great pride in our company, our commitment to customer service and in the products we sell. Our online store is designed to provide you with a safe and secure environment to browse our product catalog.
Sit back, relax and enjoy.
Many of our items already have a third party authenticity certificate on file. In the event we do not have a third party certificate on file, VINTAGEPARISDESIGNS.COM WILL OBTAIN CERTIFICATES OF AUTHENTICITY TO INCLUDE WITH EACH DESIGNER HANDBAG UPON SHIPMENT ONLY UPON PRIOR REQUEST. Please inquire. We utilize several professional established companies to confirm verification as a second opinion, such as AuthenticateFirst.com, Carol Diva, Mimi's Treasures (Chanel Only), RB, and Leather Surgeons (Chanel Only). Feel Free to inquire about this process.

VintageParisDesigns.com recognizes the ownership of each designer company. VintageParisDesigns.com has no affiliation with any designer or company. VintageParisDesigns.com is a resale designer boutique.

VintageParisDesigns reserves the right to deny the sale of any item due to the quantity available for sale. VintageParisDesigns reserves the right to deny the sale of any item to any customer for any reason. VintageParisDesigns reserves the right to deny the use of any credit card or sale to any customer for any reason. VintageParisDesigns cooperates with all law enforcement and lending companies regarding the prosecution of stolen credit cards, identity theft and package theft.