SOLD Louis Vuitton Horizon Rolling Suitcase Luggage Leather Travel Bag
Louis Vuitton Horizon Rolling Suitcase in Damier Graphite Canvas.
Includes Authentication by ENTRUPY.
The Horizon rolling luggage features the Louis Vuitton wheel system that rolls like no other bag. The are no skips in the movement and no pulling of your bag is ever needed. It almost rolls beside you. The telescopic handle moves with ease and collapses easily. The interior of the bag provides a deep space on one side secured with elastic bands and two zippered large sectional pockets on the other side.
This bag is in nearly new condition. The canvas is in mint condition. The leather is in overall fantastic shape. The interior is pristine. Terrific shape inside and out.
From 2018, Date Code: DR0188
Dimensions: 17.25 x 7.8 x 13" (perfect carry on size)
Accessories: dust bag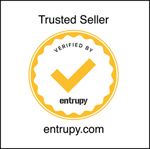 Entrupy Authentication Technology !