SOLD Louis Vuitton Monogram Cite Shoulder Bag
LOUIS VUITTON Cite Monogram Shoulder Bag box style camera bag with zipper closure. The front of the bag includes a zippered pocket with leather trim and LV monogram canvas. This is a great everyday shoulder bag or a camera travel bag.
The bag is trimmed with vachetta leather with a vanilla patina, lighter than honey.
The interior is lined in a brown leather lining. There is one side pocket. The interior is clean and free of odor.
Good Condition. Exterior shows light wear, nothing distracting. NO tears or holes Leather is pretty with no large water spots. Hardware shows normal wear, has retained shine and fully functional. Zippers work well. Interior is clean with NO odor.
The straps have a 13" drop. Bag measurements: 8.3" x 2.4" x 4.7"H.
Date Code: MI0022
Country of Origin is France.
No Accessories.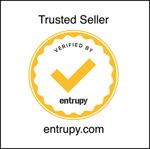 Entrupy Authentication Technology !